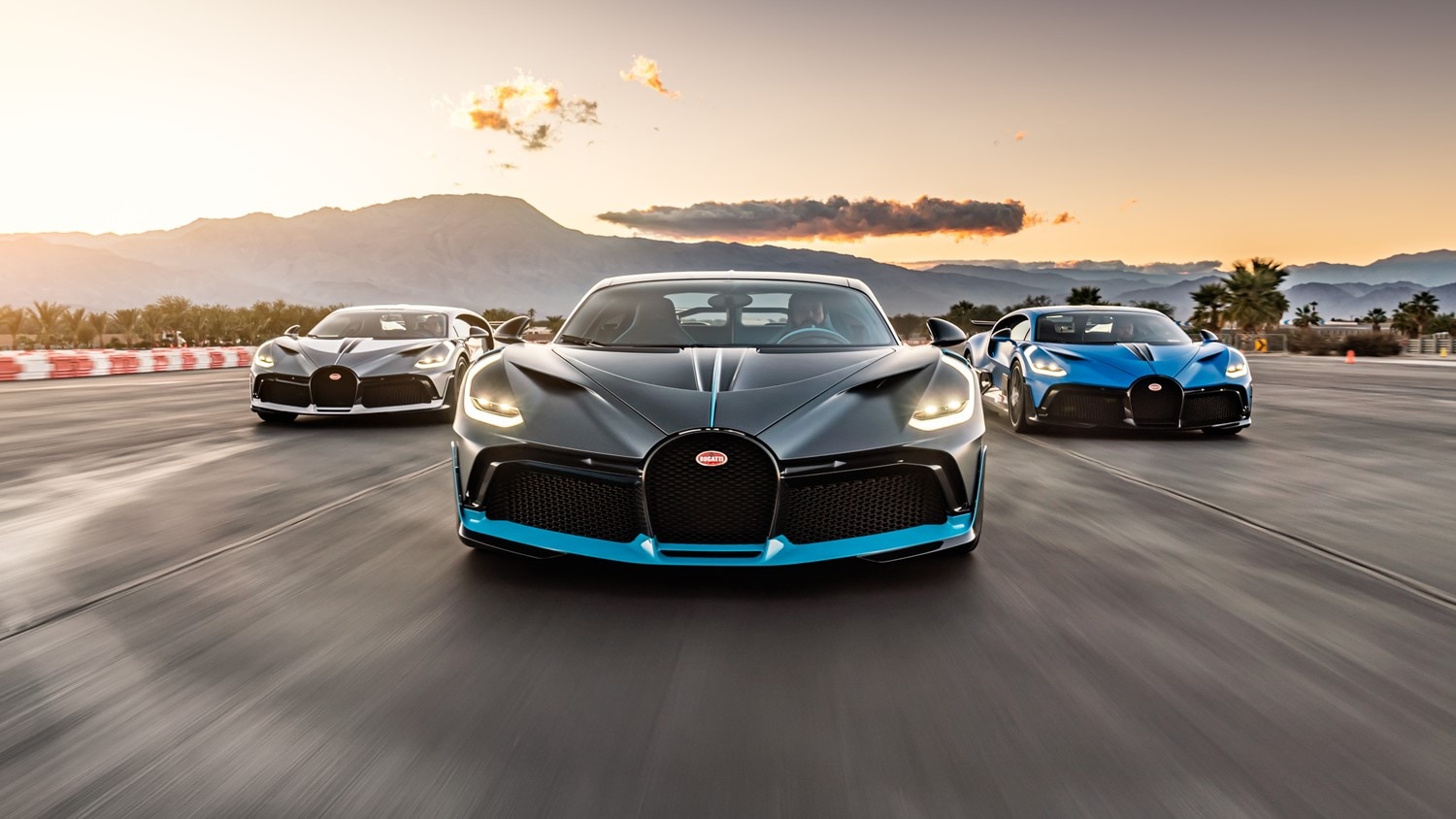 As the manufacturer of some of history's fastest vehicles, Bugatti doesn't shy away from breaking land-speed records. Take a look at the top speeds and 0-60 times of the Bugatti Chiron, Divo, Veyron, Centodieci, and other older Bugatti models below.
Bugatti Chiron
Top Speed
The Chiron can go from 0 to 60 mph in 2.3 seconds. The Chiron Super Sport 300+ can do 0 to 60 mph in 2.4 seconds.
Bugatti Veyron
Top Speed
Until the Chiron Super Sport 300+ came along, the Bugatti Veyron (16.4 Super Sport) was virtually the fastest car on Earth. On a closed track in 2010, the Veyron was clocked at 267.856 mph, beating the previous world record, set by the SSC Ultimate Aero, of 256.14 mph. 
0-60 Time
During tests, both the Veyron and Veyron Super Sport can climb to 60 mph in 2.5 seconds.
Bugatti Divo
Top Speed
The Divo, which was discontinued in 2021, has an official top speed of 236 mph.
0-60 Time
Fitted with essentially the same engine as the Chiron, the Bugatti Divo can accelerate from 0-60 (62) mph in 2.4 seconds.
Bugatti Centodieci
Top Speed
Only 10 Bugatti 110 (Centodieci) have been manufactured, which means only a select few people across the globe get to experience this rare hypercar. Centodieci top speed is capped electronically to 240 mph.
0-60 Time
Like the Chiron and Divo, the W16-equipped Centodieci can break 60 mph in 2.4 seconds.
Bugatti EB 110
Top Speed
A total of 139 EB 110 models were produced in the 1990s, and we wish that number were 100x higher. That's because the EB 110, with its quirky hood and silhouette, is one of our favorite fast mid-engine sports cars. While it doesn't have the power output of a Chiron, it holds its own; EB110 models can reach up to 212 mph.
0-60 Time
Official 0-60 times for Bugatti EB 110 models come in at 3.4 seconds.
Bugatti Bolide
Top Speed
Scheduled to be released in 2024, the all-new Bugatti Bolide is expected to feature a W16 engine and extremely lightweight body, allowing it to get up to 311 mph. 
0-60 Time
Although numbers have yet to be confirmed-you can't really confirm speeds on a car that hasn't even been produced-Bugatti engineers anticipate the Bolide to accelerate from 0-60 mph in 2.2 seconds.
Want to be notified when more Bugatti Bolide details emerge? Contact our Miami Bugatti dealership at (786) 577-5216 to hop in our rolodex, and we'll let you know when you can build your own Bugatti Bolide.