As far as exotic sports cars go, few can keep up with the Bugatti Chiron -- neither on asphalt nor runway. Its jaw-dropping style is worthy of a double-take, whether at the valet podium or when hauling tail around South Beach. And being the world's first hypercar to utilize the power of 1,500 horses, it's no stretch to see why the 2020 Chiron is considered the ultimate super sports car.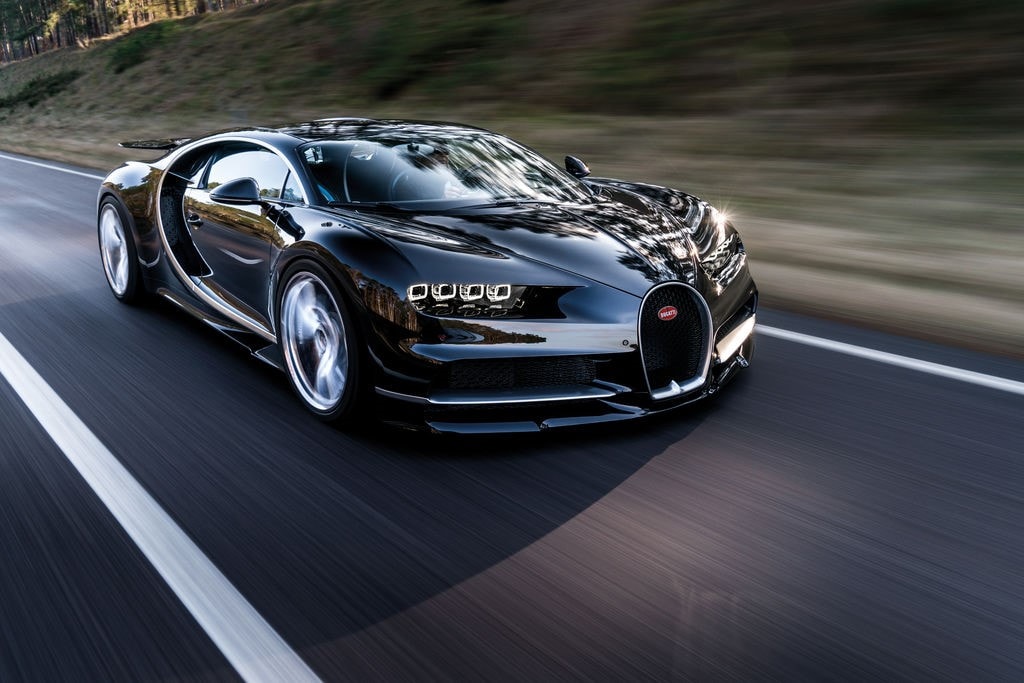 Anyone craving more from their ultra-luxury vehicle will find no better option than a Chiron, which can be custom-built starting right now when you visit our Miami luxury car dealership.
Breathtaking Power & Performance
Horsepower: 1,500. Torque: 1180 lb.-ft. Zero to 60: 2.3 seconds. Need we say more? (We will, anyway.)
An exotic race car through and through, the new Bugatti Chiron and Chiron Sport focuses on one thing: Speed. Underneath Chiron's hood is a beastly engine mated to a 7-speed automatic transmission. Boasting four turbochargers, Chiron's 8.0-liter powerplant produces a blistering 1,500 horsepower, and torque output hovers in the 1,180 pound-foot range.
How fast is the Chiron? Judged by a stopwatch, the base Chiron, at a top speed of 260-plus mph, spanks a 0-60 drag in just 2.3 or 2.4 seconds. From 0-180 mph, the Chiron has been known to clock in at 13 seconds and change – much faster than the rival McLaren P1. We'd like to thank Bugatti's improved change-air cooling system, which circulates 1,000 liters of air per second through the engine.
Those are all extremely impressive, eye-opening numbers, even for a high-performance supercar that's no stranger to the track. Add on a charming D-shaped steering wheel, paddle shifters and a smooth step-off, and you've got the markings of perhaps the snazziest supercar ever made.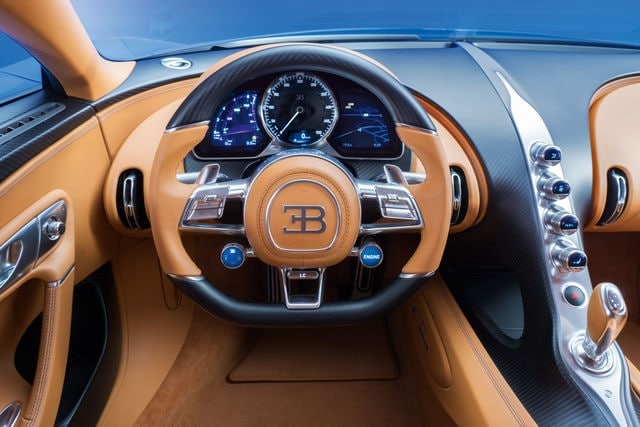 5-Star Style & Tech
The grace. The prestige. The luxury. Although its most redeemable trait is its performance, there's no debating it's a good-looking-and-feeling supercar on the inside. In the 2020 Chiron's cabin, drivers get a glimpse at the future of street-legal hypercars.
Separating driver from passenger, Chiron's center partition curves elegantly from seatback to center console. On that topic, its center console is a magnificent marvel in and of itself; built from a single, solid piece of aluminum, it features an array of glossy dials and knobs that elicit the feeling of piloting a quirky fighter jet.
There's no infotainment screen; but then again, what more do you need than the sweet grunts emanating from the engine bay and whatever tune is pumped out of the premium Accuton sound system?


2020 vs. 2019 Chiron: What's New?
Bugatti adds two new Chiron trims for the 2020 model year, undeniably making it one of the best super sports cars in the world. Lineup changes include a Chiron Super Sport 300+ and the upcoming Chiron Pur Sport.
The Chiron Super Sport 300+ is a limited-edition model celebrating Bugatti's 110th anniversary. Its engine is a 1578-horsepower quad-turbocharger, pushing the Chiron Super Sport to 300 mph – though its top speed limiter will keep you street-legal. It also features a modified gearbox with longer ratios, aerodynamically tuned bumpers, and a unique lacquer-coated carbon fiber body.
The lighter Chiron Pur Sport, unveiled in March of 2020, is set to be Bugatti's premier handling-focused uber-luxury car. Redline rpm is increased to 6,900, and Pur Sport's gear-ratio spread helps the transmission eek out more power in bursts. Unique touches include a 3D-printed titanium exhaust, alcantara materials, "aero blade" wheels to channel air to the rear diffuser, and 65-percent stiffer front springs.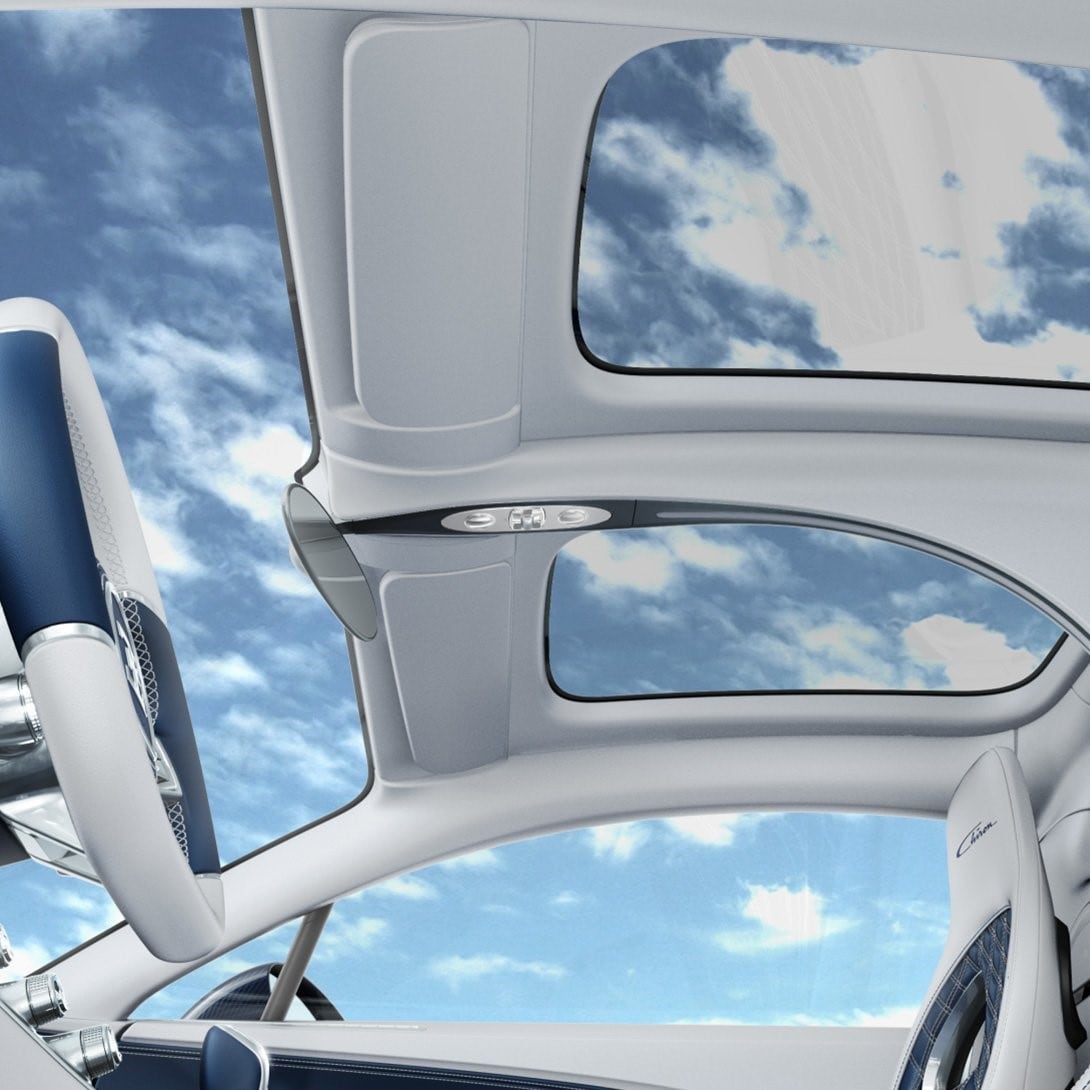 Chiron: Expert Reviews
We're a South Florida Bugatti dealer. It's no surprise we like Bugatti. If you won't take our word for it – that is, the 2020 Chiron is one of the nicest supercars in the world – then read what the industry's acclaimed experts and hypercar critics have to say.
"With its swooping lines and famously stratospheric price, the base Chiron certainly fits the bill. We think this model has what it takes to put a smile on the face of even the most discerning hypercar buyer." – Car and Driver
"The Veyron's reign as the world fastest production car is at an end, and the usurper comes from within. Yes, the Chiron is built to bend physics to the breaking point." – Top Gear
"Its crowning triumph is that makes it makes the utterly remarkable seem almost ordinary." – Autocar
"The Chiron experience is dominated by its engine. Even at low speeds, the 8.0-litre W16 engine whooshes and growls and threatens, although…it's actually impeccably behaved." – What Car?
"In the Bugatti, even at a sedate and quiet 30 miles per hour, I became the pied piper of Santa Monica, with drivers stopping in the middle of Ocean Avenue to take pictures, pedestrians pointing and several owners of German sedans pulling alongside, daring me to race." – New York Times
"The opportunity to own a record-breaking car such as the Bugatti Chiron Super Sport 300+ comes but only once or twice in a lifetime, which already puts it in a class above the majority of cars on the road today." – Car Buzz
Build a Bugatti Chiron in Miami
Explore the stunning style and mesmerizing performance of what we consider to be the fastest, most amazing production super sportscar ever built. It ticks off every item on a typical autophile's must-have list – and it does so effortlessly.
Come see this unique masterpiece of art, form and function at our South Florida Bugatti dealership. We'd love to assist you in designing your ideal Chiron supercar. Contact our Bugatti sales specialists at (786) 577-5216 to get a Chiron price quote. Our ultra-luxury car dealership is located at 2060 Biscayne Blvd in Miami, FL.